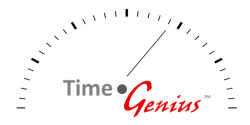 TimeGenius™ is a fully integrated cloud based software program that is offered to employers, staffing agencies, law firms, and charities. The account holders can grant access to employees, contractors, volunteers, interns or anyone representing the interest of the account holder.
Employerscan keep track of their employees, contractors, volunteers, internship individual's time and attendance for a more accurate and successful business operation.
Staffing and temp agenciescan streamline their employee time and attendance with a professional interface.You can manage your clients, invoice accurately on approved time, allow your clients to access their employees/ contractors approved time, allow your clients to set employee upcoming work schedule, allow your clients to manage all of their direct reports placed by you on their job site or office, allow your client 24/7 portal access and more…
Law Firmscan use TimeGenius™ to bill clients, keep track of client file cost with accurate reports, notes, and memos for each file, you can keep an eye on your office bottom line by keeping track of your employee time and expenses, issue invoices to your clients and much more…
Charitiescan keep accurate time track for all of their internal and external staff, volunteers, anyone that is involved with making the charity or cause a success, you can issue invoices and tax receipts, and keep track of your campaigns performance and budget as well.