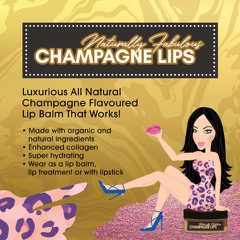 After years of not being able to find a lip balm that actually worked (haven't we all been there), I decided to take matters into my own hands and create an organic lip balm for myself. Amazed at the performance of the product, I started sharing samples with friends and family. They immediately fell in love with my lip bam and thought it was the best lip balm they had ever used. I was taking orders and shipping product before I was even thinking of marketing and selling my product. Encouraged by their immediate addiction to the product, I worked on perfecting the formula. I wanted the flavour to be special and distinct and what could be better than champagne on your lips?
The package design was inspired by my love of fashion and style, and it was created for you to enjoy as an affordable luxurious indulgence. Life is meant to enjoyed at every moment, and when you reach for your lip balm at any time during the day, you should be treating your lips and your soul to a moment of pure bliss.
STAY FAB, Love, Pina xo
EXPERIENCE THE LUXURY YOUR LIPS DESERVE
It's time to think differently about natural products. They don't need to look clinical and drab.  Simple yet powerful ingredients deserve to be wrapped up in a luxurious package.
NATURAL AND ORGANIC INGREDIENTS
Safe For Your Lips
CHAMPAGNE FLAVOURED
Yummy and delicious flavour and smell.
LUXURIOUS AND LONG LASTING
Eat, drink and kiss and it will still keep the moisture locked in.
Water repellant.
ENHANCED COLLAGEN
A little pout looks great on everyone!
3 JARS PER BOX
3×5 gram jars
Never lose a lip balm again. One for every bag and room or share with friends and family.
INGREDIENTS
Natural Pharma Grade Lanolin, Organic Enhanced Collagen, Organic Aroma (Flavour)